Photo courtesy of (Kyle Weakland)
RALEIGH, N.C.— The Inaugural Carolina Kubb Cup tournament was welcomed with 90 plus degree heat and the chance of looming thunderstorms all day but that didn't scare anyone from coming and enjoying a great day of kubb. The field was made up of both new and experienced players and a great time was had by all. The tournament started with four rounds of qualifying play, with Das Krew (Nick Bartlett, Mike Davids) of Charlotte, N.C. finishing with a perfect 4-0 record.
After a quick lunch break to cool down tournament play started. The semi-finals saw Das Krew take out Kubbin Missle Crisis 2-1 and the Pilsbury Throw Boys (Drew Gander, Kyle Weakland) beat the Tigers (Brian Lewis, Sean Uniacke) 2-0. The first game of the finals went eight kubbs deep before the Pilsbury Throw Boys were able to clear the field and take out the king. In the second game the Throw Boys game out hot at eight meters and were able to use an advantage line to finish the match and take the championship.
Das Krew didn't go home without a championship, taking the Carolina Kubb Cup for Queen City Kubb with their play all day. The third place match between the Tigers and Kubbin Missle Crisis was won by the Tigers 2-0.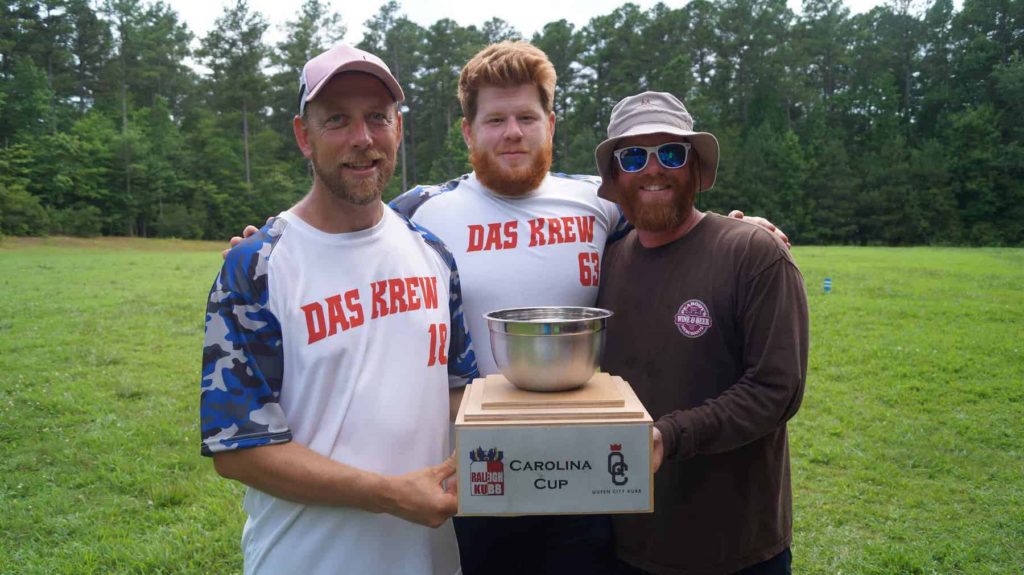 See photos from the tournament
We've added great shots to our Facebook album.